California Style Chicken Burger
Ingredients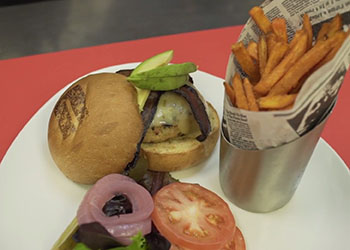 1 lb Ground Chicken
1 tspn Garlic, minced
1 tspn Ginger, grated
1 tspn Cilantro, minced
1 tspn Scallion, minced
2 tbsp Low Sodium Soy Sauce
1 tbsp Oyster Sauce
1 tbsp Sweet Chili Sauce (Preferably Mae Ploy)
1 tspn Sesame Seed Oil
1 cup Fresh Breadcrumbs
1 Egg, lightly beaten
2 tbsp All Purpose Flour
TT Salt and Pepper
Directions
Combine all ingredients except the fresh breadcrumbs and flour in the bowl of a kitchen aid mixer. Mix on the lowest setting until ingredients are thoroughly incorporated.
Turn the mixer off and add the flour and breadcrumbs. Mix for an additional 30 seconds. Season with salt and pepper. Allow the mixture to rest overnight so that the flavors can meld together.
Portion into 4 oz patties and grill until thoroughly cooked, about 4 minutes on each side. Finish in the oven at 350F degrees for approximately five minutes or until the internal temperature is 165F degrees.