The Cornell Club's Classic Apple Cobbler
Ingredients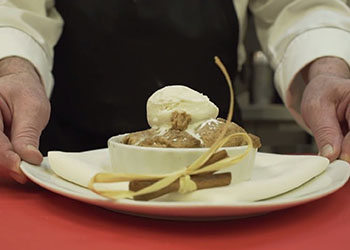 6 Granny Smith Apples, or similar cooking apples
½ cup Granulated Sugar
1 tbsp Ground Cinnamon
¼ tspn Ground Nutmeg, fresh if available
1 tbsp Minute Tapioca
1 Lemon, juiced

For the Cobbler Crust:
1 lb Butter, softened
1 cup Granulated Sugar
1 cup Flour
1 tbsp Ground Cinnamon
½ tspn Ground Nutmeg
2 cups Granola, pulsed in food processor
Directions
In the bowl of a KitchenAid fitted with the paddle attachment, cream the butter and sugar until incorporated.
Add in the cinnamon, nutmeg, granola, and flour. Mix until thoroughly combined. Set aside until ready to use. This is will be more topping than you need. Extra topping can be refrigerated for up to one month.
Peel and core the granny smith apples, before cutting into ½ inch dice.
In a stainless steel mixing bowl combine the apples with the sugar, cinnamon, nutmeg, tapioca and lemon juice.
Fill each Brûlée dish with about 1 ¼ cups of the apple mixture and cover with the topping.
Place into a 350F degree oven and bake for about 35 minutes or until golden brown and bubbling.
*If you do not have Brûlée dishes, place the apples into a 2 ½ to 3 inch ceramic baking dish, sprayed with food release spray. Cooking time will vary depending upon the size of your dish.