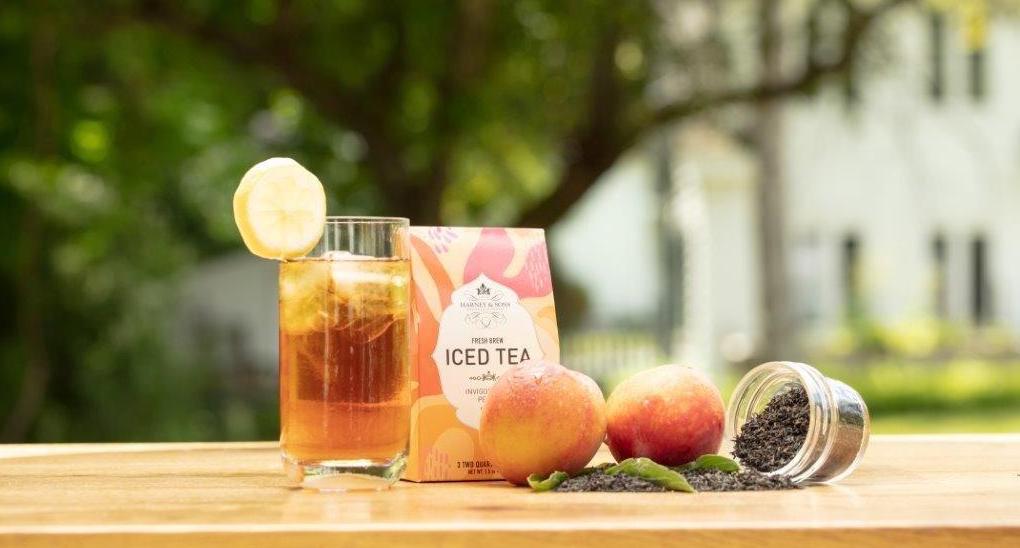 Any tea drinker visiting The Cornell Club knows they are in for a treat with our seasonal selections of Harney & Sons Teas!
Michael Harney will be giving a virtual tea tasting on Wednesday, September 30th at 2:00pm EDT! Register here.
HARNEY & SONS SUMMER ICED TEA:
Did you know the best way to make iced tea is to brew it into a concentrate with boiling water?
Each Harney & Sons Fresh Brew Iced Tea Pouch make two quarts.
Pour 2 cups of boiling water over one Harney & Sons

Fresh Brew Iced Tea pouch.

Let it steep for 15 minutes.

Add 6 cups of cool water.

Add ice just before serving. This makes sure that iced tea does not get too diluted.
Thoughts on Sun Tea with Michael Harney:
While water temperature on a very hot day can get up to 110ºF , that is still much less than boiling water. Also 110º is too low to kill any lingering microorganisms that might be found in a natural product like tea. So I do recommend boiling water and 15 minutes. The slow cool down avoids any cloudiness, because the proteins stay in solution (ahh…Food Chemistry is finally useful).
What do you add to your tea?
Michael's dad, John Harney '56, always liked to add a slice of orange to his tea. Michael suggests making a simple syrup of warm water and dry sugar. It will allow you to enjoy the sweetness you want.
Members can enjoy 20% off the Harney & Sons website with the code CCNY20. This code valid until 10/31/2020.